Подача статей





Jurshev V.I., Mihajlov V.N., Repjah B.S., Jurshev I.V.
PYROLITIC CHROMIC COVERINGS AND IMPROVEMENT OF TECHNOLOGY OF SEDIMENTATION [№ 5 ' 2003]
The given article contains the brief review on the methods of sedimentation of coverings and sedimentation from a steam phase with formation of a wearproof covering on details and cutting tool is examined. Structure, properties, equipment, and also a new way of sedimentation of a pyrolitic chromic covering are described here.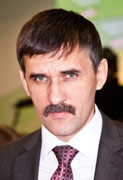 Editor-in-chief
Sergey Aleksandrovich
MIROSHNIKOV