Подача статей





Yarovenko L.L.
CALCULATION OF RISK FACTOR AT WORKING OUT OF INNOVATION STRATEGY [№ 5 ' 2009]
Types and sorts of risks which can originate at working out of innovation strategy caused their reasons are given in this article. The process of risk management is regarded here and also characteristics of every stage are given. The great attention is given to qualitative analysis of risk of innovation activity.
Yarovenko L.L.
COMBINED FORECAST METHOD FOR PROFITABILITY OF INNOVATION ACTIVITY OF ENTERPRISES [№ 11 ' 2008]
The author examines the possibility of forecasting profitability of product innovations using combined method which is a combination of extrapolation method, expert judgments and statistical method in conjunction with interpolation. The author has forecast profitability of a milk product – "Phytomol" 2,5%, produced by ZAO "Meleuzovsky milk-and-canning works".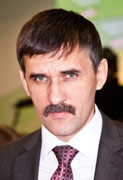 Editor-in-chief
Sergey Aleksandrovich
MIROSHNIKOV