Подача статей





Yakovenko N.A.
THE USE OF INTERNATIONAL LEGAL ACTS IN THE LEGAL REGULATION OF LABOR RELATIONS OF EMPLOYEES OF REPRESENTATIVE OFFICES OF THE RUSSIAN FEDERATION ABROAD [№ 7 ' 2015]
In connection with the latest trends of the Russian legislation on the isolation of civil servants, including diplomatic, as a separate category of persons whose work is regulated mainly norms of special laws in the scientific community expressed an opinion on the withdrawal of this category of workers from the scope of the labor law. However, the development trend of international labor law to suggest otherwise. Conventions of International Labour Organization (hereinafter — ILO) adopted in this area were aimed at the convergence of working conditions of civil servants with working conditions of ordinary employees. Labor relations of employees of representative offices of the Russian Federation abroad are governed by a special section of labor law, namely, the head 53 of the Labour Code of the Russian Federation (hereinafter — LC). However, in the science of labor law does not provide detailed independent research on legal regulation of labor relations, which indicates the relevance of the theme of this article and its novelty. The results of a study in this paper is the proposal to supplement the list of good reasons for the failure of diplomatic employee of the direction of the diplomatic mission in rotation circumstances related to family responsibilities, as well as securing the possibility of a single failure of the direction to work abroad without the threat of dismissal. According to the author, numerous acts adopted in the field of labor at the international level are directly relevant to diplomatic officials, contain important guarantees of employment and should be applied to this category of workers. It is concluded that the diplomatic employees subject to the provisions of international instruments in the field of labor, namely, the ILO Conventions on June 27, 1978 № 151 from July 23, 1981 № 156 from June 28, 1930 № 29, to consider in establishing the peculiarities of legal regulation of labor relations in this category of workers in the Russian law.
A.M. Yakovenko
THE DEVELOPMENT OF SCIENTIFIC APPROACHES TO RESEARCH OF SOCIAL AND ECONOMIC SYSTEMS IN A NEW PARADIGM OF MANAGEMENT [№ 6 ' 2003]
In the work a problem of development of scientific approaches to research of social and economic systems in conditions of construction of competitive economy is examined.
Jakovenko A.M.
TO A SUBSTANTION OF THE METHOD OF STRUCTURING OF AN ECONOMIC SYSTEM AT AN ASTIMATION OF INNOVATIONAL POTENTIAL OF ENTERPRASES AND INDUSTRIAL COMPLEXES [№ 5 ' 2003]
The substantiation of the method of structuring of social and economic system of an enterprise or an industrial complex in conditions of management by changes and development is carried out in the article.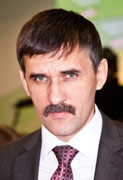 Editor-in-chief
Sergey Aleksandrovich
MIROSHNIKOV