Подача статей





Hassan G.O.O., Yagudina I.R., Karamova N.S.
ANTIMICROBIAL POTENTIAL OF ENDOPHYTIC ACTINOBACTERIA FROM MEDICINAL PLANTS [№ 9 ' 2017]
The progressive increase of resistant microorganisms causing different infectious diseases forces the search for new natural sources of compounds with antimicrobial activity.
In this work we isolated endophytic actinobacteria from twelve medicinal plants growing in Republic of Tatarstan, Russia and studied their antimicrobial activity against five Gram-positive bacteria associated with respiratory tract infections (RTI). 68 isolates from different parts (root, leaf, and stem) of plants were obtained. The isolates were found to be prevalent in roots (38.24 %) followed by stem (32.35 %) and leaves (29.41 %). It was shown that 14 isolates exhibit antimicrobial activity against Staphylococcus aureus, Staphylococcus epidermidis, Enterococcus faecalis, Corynebacterium striatum, Bacillus subtilis isolated from respiratory tract of patients with RTI symptoms in Kasr El-Aini, El-Rahma Masr El Gedida hospitals, Egypt. The highest number of actinobacteria with antimicrobial activity was isolated from the roots of Achillea millefolium and isolate 8R7 inhibited the growth of all bacteria tested. Antimicrobial isolates 8R7, 5R1 (from the roots of Mentha piperita) and 6R1 (from the roots of Hypericum perforatum) demonstrated greatest growth inhibiting activity against Bacillus subtilis, Enterococcus faecalis and Corynebacterium striatum (inhibition zones are 18.3, 18.0 and 17.5 mm respectively).
Thus, data obtained indicate that secondary metabolites of endophytic actinobacteria isolated from the roots of Mentha piperita, Hypericum perforatum and Achillea millefolium have the potential to be considered for development as new agents for treatment of respiratory tract diseases.
Yagudina O.V.
ROLE OF OLD BELIEF FACTOR IN SOCIO-RELIGIOUS LIFE OF ORENBURG AND URAL COSSACKS (SECOND HALF OF XIX — EARLY XX CENTURY) [№ 5 ' 2012]
The article analyzes the role of Old Believers in the socio-religious life of the Ural and Orenburg Cossack armies in pre-revolutionary period. In addition, the question about the influence of Old Believers in the life of the region through participation in local government is interesting.
Yagudina T.A.
LOGIC FORMS OF THINKING (DIDACTIC ASPECT) [№ 5 ' 2006]
Didactic aspect of logic forms of thinking, represented as individual ideal and been a condition and a factor of intellectual development of pupils, is regarded in this article. The possibility of school pupils to study basis of logic forms is proved here too.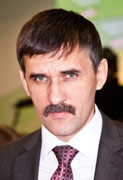 Editor-in-chief
Sergey Aleksandrovich
MIROSHNIKOV