Подача статей





Vyatchanina E.S., Skalny A.V.
PROTECTANT ACTION OF ZINC SULFATE AT INTRAUTERINE ALCOHOL INFLUENCE [№ 12 ' 2007]
The experiments results of toms of nonpedigreed rats, which were subjected to alcoholization of 15% ethanol solution during 100 days or without of zinc sulfate (groups A or A+Zn) addition in ration are shown in this article. It is received that zinc influences on metabolism of Mg, K, Na, Fe and Zn in cerebral cortex of rats, on metabolism of Mn, and also on increase of Zn, Cu, Mg, K and Na content in hippocampus, on metabolism of Mn and on increase of K, Na and Fe content in rats' cerebellum. Conclusion that ZnSO4 realizes protectant function of brain of alcoholized rats is made in this article.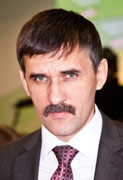 Editor-in-chief
Sergey Aleksandrovich
MIROSHNIKOV