Подача статей





Vlatskiy V.V.
THE SIMULATION OF RIVER DRAIN WITH HELP OF GIS-TECHNOLOGIES [№ 9 ' 2010]
The work is dedicated to the task of the simulation of the river drain of the ponds of the rivers of the Urals and Sakmara of Orenburg region. The procedure of the use of Gis- technologies for the definition of the characteristics of aqueous objects and visualization of the results of simulation is represented.
Nikiforov I.A., Nesterenko M.Yu., Vlatskiy V.V.
THE GEO-INFORMATION SIMULATION OF THE DYNAMICS OF GEOLOGICAL MEDIUM UNDER THE TECHNOGENIC-CHANGED CONDITIONS BASED ON THE EXAMPLE OF THE SOUTH CIS-URAL [№ 9 ' 2010]
The successful solution of the problems of seismic monitoring assumes the deep unification of the information description of many subject areas of different nature. The general geometric space is the basic prerequisite of their integration into the united geo-information model of complex structure.
Vlatskiy F.D.
RESEARCHES OF RADON CONTENTS IN LIVING QUARTERS OF PERVOMAYSKIY AREA OF ORENBURG REGION [№ 10 ' 2005]
In the article the data are given of experimental researches of the radon contents in 14 settlements of Pervomayskiy area. Measurements were carried out both in summer, and in autumn periods. Recommendations are given for reduction of the radon contents in rooms. The literary data are given which put under doubt harm of small dozes of a radioactive irradiation at low power of doze.
Vlatcky F.D.
METHOD OF EXPRESS ANALYSIS OF CONTENT OF NATURAL RADIONUCLIDS IN TESTING BUILDING MATERIALS AND RADIATION - ECOLOGICAL MONITORING FOR GAS - AND - OIL PRODUCTION TRADES. [№ 5 ' 2004]
Method of express definition of specific effective activity of radionuclids in testing of building materials and testing of radiation - ecological monitoring for gas - and - oil production trades, on the basis of experimental results, previous researches is suggested in the article. We can make a conclusion on the basis of received facts that it is possible to make measurings regarding energetic line 186 KeB without two - weeks extract.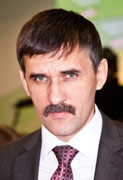 Editor-in-chief
Sergey Aleksandrovich
MIROSHNIKOV