Подача статей





Vishnevskiy S.N.
THE SYSTEM ANALYSIS OF THE COMPONENTS OF THE BLOOD OF HEIFERS OF ABERDEEN-ANGUSS SPECIES WITH THE DISTANT INBREEDING [№ 10 ' 2010]
The author described system approach to the estimation of the organism of heifers of Aberdeen-Anguss species of the distant degree of the relationship through the components of the blood, which made it possible to establish new laws governing the increase, development of animals.
Vishnevskiy S.N.
EMERGENT PROPERTIES OF BLOOD COMPONENT RELATION IN OUTBREEDING BULLS AND HEIFERS PERTAINING TO ABERDEEN ANGUS BREED [№ 5 ' 2010]
This article describes a systematic approach to assessing the body of outbreeding bulls and heifers of Aberdeen-Angus breed through the blood components which allowed establishing new patterns for growth and development of animals.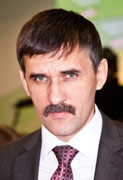 Editor-in-chief
Sergey Aleksandrovich
MIROSHNIKOV