Подача статей





Sorokoletov G.V., Zuev V.K., Tumanjan J.R., Veshhikova V.N., Frankovska-Gerlyak M.Z.
THE RESULTS OF CORRECTION OF HIGH MYOPIA DOMESTIC PHAKIC INTRAOCULAR LENS [№ 12 ' 2015]
Currently it is widely used correction of high myopia (MIF) negative posterior chamber phakic lenses, but the question remains of conformity of the linear size of the PIOL to the diameter of the ciliary sulcus. High myopia correction by posterior chamber IOL implantation is very popular today but disproportion between the PIOL size and the ciliary sulcus diameter could be a reason for some complication at long-term follow-up. Therefore a new model of PIOL with adaptation ability to individual ciliary sulcus diameter was propounded. The PIOL is manufactured from hydrophilic acrylic (Contamac CI26) with water contains 26 % and refractive index 1.46. In result the new PIOL shows efficacy, safety and high adaptation ability.
Sorokoletov G.V., Zuev V.K., Tumanyan E.R., Veshchikova V.N.
THE SURGERY ACCESS CHOICE DURING CATARACT PHACOEMULSIFICATION [№ 4 ' 2013]
The most common incision for cataract surgery by phacoemulsification is corneal. But limbal incision has advantages associated with limbal regeneration function and disadvantages associated with conjunctiva chemosis in time of surgery. The introduced technology of limbal incision permits to avoid conjunctiva chemosis and get excellent results at the follow-up.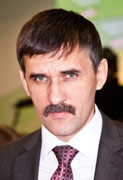 Editor-in-chief
Sergey Aleksandrovich
MIROSHNIKOV