Подача статей





Kovalchuk M.V., Bagirova V.V., Veselov B.V.
MAGNETIC FIELDS IN COMPLEX TREATMENT OF OSTEOARTHROSIS [№ 5 ' 2003]
The efficiency of impulse magnetic field (IMF) in treatment of osteoarthrosis patients is estimated in the article. From 30 surveyed patients 15 received treatment IMF, 15 - variable magnetic field (VMF). Under the influence of therapy with inclusion IMF at patients positive clinical dynamics was marked, parameters of rheovasogram, сapillaroscopy , conjunctival vascular indexes were authentically improved. VFM renders less expressed effect on microcirculation and regional vascular resistance.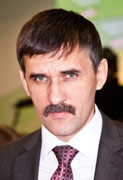 Editor-in-chief
Sergey Aleksandrovich
MIROSHNIKOV