Подача статей





Velikaya E.G.
APPROACH TO STRATEGIC MANAGEMENT OF CORPORATION [№ 7 ' 2003]
The conceptual approach to consideration of strategic management is considered in the article as effective mechanism of maintenance of effective functioning of industrial corporation in dynamical conditions, and frequently uncertain and turbulent environment caused by process of free market formation in Russia.
E.G.Velikaya
MODELLING AND FORECASTING OF THE CONDITION OF INDUSTRIAL CORPORATION IN THE COMPETITIVE MARKET [№ 6 ' 2003]
In the given article the expediency is proved and the mechanism of realization an estimation technique, modelling and forecasting of a condition of industrial corporation in the competitive market is stated, the graphic three-parametrical model of a condition of corporation received by results of modelling in the competitive market can be used as the tool of monitoring or as static model.
Velikaja E.G.
RESEARCH OF INDUSTRIAL CORPORATIONS FUNCTIONING [№ 5 ' 2003]
The approaches to research of industrial corporations functioning from positions of the system - logic approach are considered in the article. The dynamic model of an estimation of a corporation condition is offered. The toolkit of neutralization and decrease of influence of destabilizing factors of the environment, directed on maintenance of steady functioning and development of corporations in conditions of the dynamical environment is developed.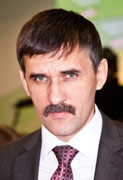 Editor-in-chief
Sergey Aleksandrovich
MIROSHNIKOV