Подача статей





Polyanskaya T.A., Vedernikova O.P.
CHARACTERISTICS OF COENOPOPULATIONS PYROLA ROTUNDIFOLIA L. IN THE REPUBLIC OF MARI EL [№ 5 ' 2010]
The analysis of 14 cenopopulations (CP) Pyrola rotundifolia L. in different ecological and phytocoenotic conditions in the Republic of Mari El has shown that for most CPs the ecological potencies were implemented from 3 to 61%. For most CPs of the European pyrole (Pyrola rotundifolia) we found characteristic ontogenetic spectra with peaks at the groups of individuals with pre-generative period, minor variations in demographic parameters associated with intense vegetative reproduction. The highest productivity of total phytomass for P. rotundifolia found in Norway spruce green forest (172 g/m2), the lowest in the birch reed grass-forb forest- 58.52 g/m2.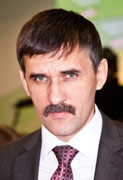 Editor-in-chief
Sergey Aleksandrovich
MIROSHNIKOV