Подача статей





Ogorodnikov P.I., Usik V.V.
PREDICTION OF PRODUCTION AND YIELD OF GRAINS THROUGH REGRESSION MODELS [№ 13 ' 2011]
Agricultural production is the most complicated object from the point of view of modeling of industrial-technological processes. Complexity of modeling consists in likelihood character of the majority of the factors forming models. In article are presented регрессионные the models adequately describing studied process both allowing to predict manufacture and productivity of grain crops.
Ogorodnikov P.I., Usik V.V., Lizneva I.A.
EFFECTIVENESS OF AGRICULTURAL AIRCRAFT-CHEMICAL WORKS [№ 2 ' 2006]
At the present time it is practically impossible to get good harvest of grain-crops without using of chemical fertilizers, pesticides and herbicides. Bringing in of chemicalixation means with ground transport is problematic enough therefore aviation soil cultivation is the most important problem of modern agriculture. Condition and perspectives of aircraft-chemical works development in the Russian Federation and Orenbrug region is regarded in this article.
Usik O.E.
PROSPECTS OF DEVELOPMENT AND EFFICIENCY INCREASE OF TECHNICAL PROGRESS IN PLANT GROWING OF THE ORENBURG REGION [№ 5 ' 2005]
Losses of a crop because of constant infringement of terms of agricultural works performance again and again forces to address to calculation of optimum structure of machine-tractor park both at a level of an agricultural enterprise, and at a level of an administrative region. The given problem is solved on the developed technique of distributive expenses in dual-purpose statement.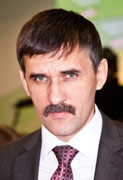 Editor-in-chief
Sergey Aleksandrovich
MIROSHNIKOV