Подача статей





Milanovskiy E.Yu., Shein E.V., Rusanov A.M., Tygai Z. N., Il'in L.I., Zinchenko S.I., Fomin D.S., Bykova G.S.
SPATIAL DISTRIBUTION OF THE ORGANIC MATTER CONTENT IN THE SOIL IN THE CENTRAL CHERNOZEM AGROLANDSCAPES [№ 6 ' 2015]
The study of the organic carbon and CaCO3 distribution of in the 80 m long transect crossing the field of agriculture and forest belt characteristic of the age showed significant differences in the distribution of organic and mineral carbon profiles in chernozems under the arable land and in the vicinity of the forest belt. This is due to a dominant role in the formation of hydrothermal conditions of reserves and the content of organic matter in the chernozem and points to the importance of assessing the physical conditions that lead to the formation conditions of accumulation of organic and inorganic carbon in soils, determining the conditions for the functioning of soil biota in steppe landscapes.
Rusanov A.M., Shein E.V., Milanovskiy E.Yu., Lazarev V.I., Tygai Z.N., Fomin D.S., Il'in L.I., Zinchenko S.I., Bykova G.S., Uкenov B.S.
FEATURES OF MIGRATION PROCESSES IN THE STEPPE LANDSCAPES SOIL UNDER THE INFLUENCE OF FOREST SHELTER BELTS [№ 6 ' 2015]
The study of the influence of forests in the steppe zone on the soil cover complexity formation is carried out by investigating the distribution of moisture and carbon organic matter and carbonates in the transect consisting of chernozems, underneath the forest shelter belts and under agricultural lands. It is primarily manifested through the formation of special hydrothermal conditions, arising under the forest belt, and entails the formation of stable soil properties such as organic carbon content.
Kharitonov G.V., Manucharov A.S., Pochatkova T.N., Tyugay Z.
EFFECT OF SOLUBLE SALTS ON THE SURFACE PROPERTIES OF CLAY MINERALS [№ 4 ' 2011]
Shown that the effect of soluble salts on the surface properties of clay minerals depends on the nature of the mineral properties of salt used and its state (in solution or adsorbed). Processing of clay minerals with solutions NaCl, MgCl2, Ca(CH3COO) 2 and ZnCl2 leads to an increase in their water-holding capacity according to the following series: NaCl > MgCl2 > Ca(CH3COO) 2 ≈ ZnCl2.
Salnikova N.A., Salnikov A.L., Tyugay Z., Polyanskaya L.M., Egorov М.А.
THE ESTIMATION OF CARBON RESERVES IN THE HYDROMORFIC SOILS OF THE VOLGA RIVER DELTA [№ 12 ' 2008]
The study on the assessment of the carbon content in the hydromorphic soils of the River Volga delta have revealed percentage of the organic carbon up to 96% and up to 8% of the non-organic carbon. The role of microorganisms in the biosphere functions of soils. The percentage of the microbial biomass carbon in the carbon reserves out of the total soil organics ranged from 10.1 to 31.2%.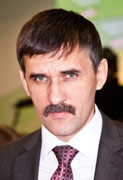 Editor-in-chief
Sergey Aleksandrovich
MIROSHNIKOV