Подача статей





Tkhazaplizheva L.Kh., Chadaeva V.A.
VITALITET STRUCTURE OF COENOPOPULATIONS OF SPECIES OF ALLIUM L. GENUS UNDER CONDITIONS OF KABARDINO-BALKARIA [№ 6 ' 2010]
The authors study vitalitet structure of coenopopulations (CP) of five species of wild onion belonging to Allium L. genus — Allium albidum Fisch. ex Bieb., A. saxatile Bieb., A. paniculatum L., A. szovitsii R., A. victorialis L. They discover biological features of the species and conditions determining basic features of CP vitalet structure. They also define several types of CP vitalet spectra.
Gavashely G.Sh., Shkhagapsoev S.Kh., Tkhazaplizheva L.Kh.
TO THE FLORA ANALYSIS OF HIGHER-BALKAR ARID KETTLE [№ 2 ' 2008]
Information about taxonomic and bioecological structure of xerophilous floristic complex of Higher-Balkar arid kettle in Kabardino-Balkaria Republic is given in this article. Analysis of species placement at altitudinal belts is given here and also phytosozological analysis is given. A number of rare and subject to protection species are revealed and preserve formation on the territory of their placement is suggested in this work.
Kozhaeva D.K., Kazancheva L.A., Misakov A.S., Tkhazaplizheva Zh.A., Kazanchev S.Ch.
ECOLOGICAL ASPECTS OF UNDERYEARLINGS' JOINT GROWTH OF ZOO-BENTO-PHYTO-PHAGES [№ 12 ' 2007]
Ecological appraisal of effectiveness of vegetable fish and carps' joint growth in conditions of continental hart climate of highland is given in this article. The reserves are revealed and general trends of fish production increase of ponds (optimal correlation of bioecological variety of fish, feeding and ponds' fertilizing) are determined in this work. Optimal ecological model for fish farms of Kabardino-Balkaria region and differentiated using of zonal peculiarities of ponds is worked out here.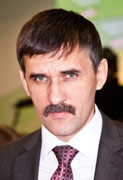 Editor-in-chief
Sergey Aleksandrovich
MIROSHNIKOV