Подача статей





Teplyakova G.V.
MODEL OF PROFESSIONAL MOTIVATION FORMATION OF FUTURE BACHELORS IN NUTRITIONAL PROFILE WHILE STUDYING MATHEMATICS [№ 2 ' 2013]
This article presents the structural-content model of formation process of professional motivation for future bachelors in nutritional profile in mathematics study as system of different interconnected blocks: target, substantial, procedure, evaluative and efficient — open for continuous updates. The author proposes pedagogical conditions, means, criteria and indicators of professional motivation formation for future bachelors of nutritional profile in the study of mathematics improving the level of professional training.
Teplyakova G.V.
FORMING OF PROFESSIONAL MOTIVATION OF FUTURE ENGINEERS OF FOOD PRODUCTION AT THE PROCESS OF MATHEMATICS STUDYING [№ 2 ' 2011]
In this article the author gives the results of conditional process concerning the formation of professional motivation of future engineers specializing in food production and learning mathematics. The article deals with the problems concerning the professional — personal characteristics. It offers possible effective methods concerning the formation of the professional motivation of future engineers of food production.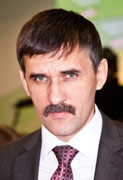 Editor-in-chief
Sergey Aleksandrovich
MIROSHNIKOV