Подача статей





Tatarkin A.I.
COMPETITIVE REGIONAL AND TERRITORIES POSITIONING IN THE SPATIAL DEVELOPMENT OF THE RUSSIAN FEDERATION [№ 8 ' 2013]
This paper contents the author definition of territories competition, competitive positioning and competitive immunity, determines characteristics and sources of competitive territory activity. Reasons and facts which limit competitive territory activity are investigated. The directions and sources of increasing competitive opportunities of the territories by accumulating material and intangible assets, active using of market development initiatives and forming of favorable macroeconomic world are reviewed.
Tatarkin A.I.
INTEGRAL CORPORATIVE STRUCTURES' INFLUENCE ON REGION'S SOCIAL AND ECONOMIC DEVELOPMENT [№ 10 (app.1) ' 2005]
Traditionally the Ural federal district takes first place among the districts of the Russian Federation according to social results. It is in the lead according to calculation per one person in: gross regional product, volumes of industrial products, fixed capital, investment into fixed capital, balance finance result and receipt of dues and fees into the budget system of the Russian Federation. According to cash income the district takes second place over Russia. The amount of information about The Federal district is large. It is necessary for operational management. All necessary information must be processed and based upon information technologies. It must also include all information about enterprises' work and social and economic condition of the region's population.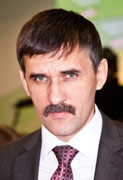 Editor-in-chief
Sergey Aleksandrovich
MIROSHNIKOV