Подача статей





Tarichko I.Yu.
THEORY OF CRIMINAL-PROCEDURAL FUNCTIONS: RETROSPECTION AND REALITIES [№ 3 ' 2008]
Problem questions of theory of criminal-procedural functions as one of important trends of science are revealed in this article.
Tarichko I.Yu.
THE PROBLEMS OF CRIMINAL LEGAL PROCEDURE SETTING [№ 3 ' 2006]
The important problems regarding to the problems of criminal legal procedure setting are considered in this article.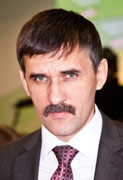 Editor-in-chief
Sergey Aleksandrovich
MIROSHNIKOV