Подача статей





Taranovskaya E.A., Sobgayda N.A., Alferov I.N., Morev P.V.
SEWAGE TREATMENT USING CHITOSAN [№ 10 ' 2015]
This paper studied the unique properties of chitosan and its use. The technology of obtaining chitosan from shellfish waste recycling field, ie the shell of walking limbs Kamchatka king crab. The characteristics of the chemical composition of the shell. Showing the steps of isolating chitin chemically — a stage of demineralization and deproteinirovaniya. The technology of chitosan production is the reaction from the cleavage of the structural unit of chitin acetyl groups represented in the article. Chitosan is obtained by the presented technology used for wastewater treatment from cations of heavy metals and suspended solids. We prove that the wastewater treatment from suspended solids using chitosan is more effective in a shorter period of time. Includes photographs of wastewater containing suspended solids without and after treatment with a solution of chitosan. Also investigated were the model waste water containing heavy metal cations (Cd2+, Pb2+, Zn2+), which was added to purify the chitosan solution in 2% acetic acid in different ratios. It was found that the optimal ratio of chitosan solution to the model drains is 10 ml per 1 000 ml of solution, further increasing chitosan supplements are not advisable. Efficacy effluent from heavy metal ions by chitosan is from 50 to 80 % and depends on the nature of the metal cation. The most effective wastewater treatment is achieved for cadmium cations.
Taran G.S.
WILLOWS AND BIRCH AND SHRUB BOGS WITH SALIX ROSMARINIFOLIA L. IN THE VAKHTYM SECTION OF THE OB RIVER VALLEY [№ 4 ' 2009]
The paper describes characteristics of shrubby willows (associations Sanguisorbo officinalis-Salicetum rosmarinifoliae Taran 1993, class Brachypodio pinnati-Betuletea pendulae) and hummock birch and shrub bogs (assotiations Carici juncellae-Salicetum rosmarinifoliae Korolyuk et Taran in Taran 1993, class Alnetea glutinosae), distributed across the Ob River valley in taiga zone.
Taran G.S.
BOTTOMLAND EPHEMERETUM OF OB AND IRTYSH REVERS NEAR KHANTY-MANSIYSK CITY [№ 2 ' 2009]
Societies of bottomland ephemeretum with domination – subdomination Limosella aquatica, Coleanthus subtilis, Callitriche palustris (асс. Rorippo dogadovae-Limoselletum aquaticae Taran 2005, class Isoëto-Nanojuncetea), described on run-of –river shoals of inner-bottomland flows near Khanty-Mansiysk city, are characterized in this article.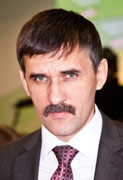 Editor-in-chief
Sergey Aleksandrovich
MIROSHNIKOV