Подача статей





Subhankulova A.I.
CREDITING OF THE BUILDING INDUSTRY IN RUSSIA: THE PROBLEM OF THE ESTIMATION OF THE FINANCIAL CONDITION OF THE BORROWER [№ 13 ' 2010]
In article we develop recommendations for application in work as banks for the purpose of decrease in risks and increase in efficiency of crediting of the building industry, ways of a solution of a problem of an estimation of a financial condition of the borrower — the building organization in particular are offered.
Subkhankulova A.I.
BANK CAPITAL APPRAISAL ON THE RUSSIAN MARKET [№ 8 ' 2009]
Different approaches to the appraisal of bank capital cost on the Russian market are regarded in this article. The analysis of methods of this appraisal conduction is given here. General problems at capital appraisal conduction of Russian commercial banks are revealed and the ways of their solutions are proved in this work.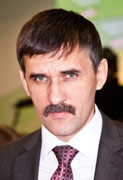 Editor-in-chief
Sergey Aleksandrovich
MIROSHNIKOV