Подача статей





Bykova E., Sogolovskaya E., Sotnikova T., Gabriel T.
ANALYSIS OF CHANGES IN THE FACTORS OF NONSPECIFIC PROTECTION OF BIOLOGICAL FLUIDS IN VIRAL LESIONS OF THE EYES SURFACE [№ 12 ' 2015]
It is known that in adenoviral conjunctivitis, herpes and other infectious diseases in the human body increases the production of specific and nonspecific protection factors. Nonspecific factors include lysozyme (muramidase) and ceruloplasmin, which form together with other factors, antibacterial, antiviral and antiradical body protection (ABP, AVP, ARP). Adenoviral infection first develops in the nasopharynx, and then raises along tear duct, and involves in the pathological process the conjunctiva and lacrimal apparatus of the eye. The virus of herpes resides in the human body in a latent state and, periodically sharpening, causes ophthalmic herpes. Individual drugs used in ophthalmology for the treatment of viral infections (adenoviral keratoconjunctivitis and ophthalmic herpes), have the ability to inhibit the lysozyme activity (e.g., cycloferon, interferon and poludan). The enzyme activity of ceruloplasmin depends on the chemical structure of a drug and additionally introduced ingredients.
Sotnikova L.I., Sotnikov A.A.
PECULIARITIES OF CULTURAL-ECOLOGICAL HISTORY [№ 9 ' 2008]
This article is devoted to the regularities of origin and solution of cultural-ecological problems during evolution of nature management. Firstly historical types of ethnos are regarded, then cultural-ecological peculiarities of origin primitive nature management.
Sotnikov A.A.
PROBLEM QUESTIONS OF CULTURAL ECOLOGY [№ 7 ' 2006]
The problem questions of the course "Cultural ecology", which are the bases of the general discipline, are regarded in this article. Basing and content of discussed questions with detailed analysis are offered here. Also the list of corresponding science literature is offered.
Sotnikova L.I.
METHODOLOGICAL FACTORS OF CULTURAL ECOLOGY [№ 7 ' 2006]
General factors of cultural ecology are regarded in this article. The analysis of scientific sources is given here and some significant factors with following argumentation of positions and factors are distinguished.
O.A. Sotnikova
ABOUT ONE MODEL OF STUDY ORGANIZATION OF SUBJECTS DISCIPLINES AT A TEACHER OF MATHEMATICS TRAINING (ON THE EXAMPLE OF ALGEBRA COURSE) [№ 3 ' 2003]
The reasons of weak subject training of a teacher of mathematics are analyzed in this article. It is offered unified approach to mathematics disciplines study, which is founded on connections opening in studied material. The types of connections and their role in material mastering are shown on the example of algebraic contents. According to the author opinion the model of high algebra study organization is adequate to essence of formalized connections in unified approach.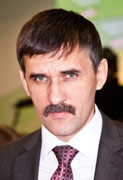 Editor-in-chief
Sergey Aleksandrovich
MIROSHNIKOV