Подача статей





Sorokina N.G.
MECHANISM OF OUTSOURCING REALIZATION ON AN INDUSTRIAL ENTERPRISE [№ 9 ' 2008]
Theoretical bases of outsourcing as modern instrument of business restructing on an industrial enterprise are regarded in this article. General elements of outsourcing realization mechanism: purposes, tasks and principals are presented here.
Valishevskaya T.I., Sorokina N.G.
OUTSOURCING AS A STRATEGIC MODEL OF COMPETITIVENESS GUARANTEEING OF RUSSIAN ENTERPRISES [№ 6 ' 2007]
The reasons of transferring on outsourcing, factors, influenced on its development, types and characteristics, peculiarities each of them, world and Russian experience of introduction into the practice of management are revealed in this article.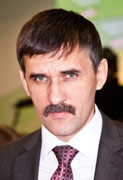 Editor-in-chief
Sergey Aleksandrovich
MIROSHNIKOV