Подача статей





Solovtsova I.A.
THE CHARACTERISTIC CONTENT OF RELIGIOUS EDUCATION IN ORTHODOX AND SECULAR PEDAGOGICS: METHODOLOGICAL BASES OF INTEGRATION [№ 9 ' 2006]
Invariant substantial characteristics of religious education discovered as a result of integration of Orthodox and secular pedagogics methodological ideas are proved in this article. Presented characteristics are the base of Orthodox and secular pedagogics interaction in the sphere of religious education on methodological, theoretical and technological levels.
Solovtsova I.A.
THE SYSTEM OF INTELLECTUAL EDUCATION OF PUPILS: PROJECTING PROBLEMS [№ 2 ' 2006]
The projecting problems of intellectual education process of pupils taking into account the essential characteristics of intellectual education and peculiarities of intellectual education process are considered in this article. The author analyzes general characteristics of intellectual education and compares it with components of intellectual education teacher activity, regards logics of teacher activity of process projecting and situations construction of intellectual education.
Solovtsova I.A.
SPIRITUAL EDUCATION IN THE CONTEXT OF COMPLETE - HUMANITARIAN APPROACH [№ 10 ' 2005]
The article is devoted to the problem of development of the spiritual education theory on the basis of integration of philosophical, theological, psychological and pedagogical knowledge, and also representations about a phenomenon of the spiritual education, formed within the framework of various concepts of education. In the article one of construction variants of the complete theory of spiritual education is examined in the context of humanitarian knowledge with the account of polyparadigm character of modern social and cultural and pedagogical reality.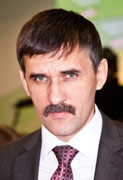 Editor-in-chief
Sergey Aleksandrovich
MIROSHNIKOV