Подача статей





Bogoduhov S.I., Garipov, V.S., Salosina E.V.
THE ELASTICITY MODULUS OF VARIOUS MATERIALS BY MEANS OF STRAIN GAUGES [№ 4 ' 2014]
The article considers the questions of the determination of the elastic modulus of various materials with application of means of strain gauges. The scheme of loading, methods of determination of the elastic modulus at different kinds of deformation, described the advantages and disadvantages of application of strain gauges.
Kozik E.S., Koshelev S.I., Kushnarenko E.V., Scheinin B.M., Pravdin V.S., Solosin E.V.
THE CORROSION RESISTANCE OF LOW-CARBON STEEL WITH GALVANIZED STEEL [№ 1 ' 2013]
In the article investigated problems of increase the corrosion resistance low-carbon steel with galvanized steel. Found that for steel specimens diameter of 2–3 mm of the electrodes SSSI 13/55, MP-3, RLA-8 galvanically chrome-plated, nickel and cadmium after hydrogen sulfide native NACE test environment for 96 hours, followed by test notes on flexible bend corrosion resistance remained unchanged.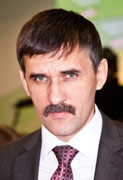 Editor-in-chief
Sergey Aleksandrovich
MIROSHNIKOV