Подача статей





Chepasov V.I., Fot A.P., Bikmukhametova A.A., Sologub L.F.
BASIC PARAMETERS FOR DEFINITION OF CHARACTERISTICS OF SETS OF END MEASURES [№ 3 ' 2013]
The article discussed the questions of optimization of parameters of sets of plane-parallel end measures on the basis of the methodology of association of the studied parameters of factors and location on the results of the associations in each of the factor of the basic parameters of the sets. On basic parameters, built models for finding of the main characteristics of sets of end measures.
Tjunjaev I.V., Sologub V.A.
INFLUENCE OF THE HIGH-SPEED MODE OF MOVEMENT OF VEHICLES ON WEAR RESISTANCE OF BEARINGS OF CRANKED SHAFT OF ENGINES [№ 10 ' 2011]
In article laws of wear resistance of bearings of cranked shaft of engines depending on a high-speed mode of movement of vehicles (on an example of the car VAZ-2107 and bus PAZ-3205) are established. Techniques and results of trial runs of vehicles for reception of high-speed characteristics by new criterion of wear resistance of bearings of cranked shaft by means of an original express technique are resulted. High-speed modes of movement of the vehicles, providing the maximum wear resistance of bearings are defined.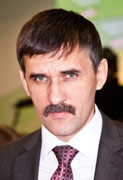 Editor-in-chief
Sergey Aleksandrovich
MIROSHNIKOV