Подача статей





Vasiliev A.V., Egorov V.V., Smolyakova G.P.
EFFICIENCY OF POSTOPERATIVE IMMUNOPROPHYLAXIS OF PROLIFERATIVE COMPLICATIONS IN SURGERY OF A CONGENITAL CATARACT WITH IMPLANTATION OF AN INTRAOCULAR LENS IN CHILDREN OF THORACAL AGE [№ 12 ' 2014]
Efficiency of application of a pharmacological immunocorrection by preparations Viferon and Derinat in prophylaxis of posterior lens capsule opacification after a congenital cataract surgery in children of the first year of life was studied. It was noticed decrease by 2.2 times of frequency of a posterior lens capsule fibrosis and retention of its transparency in 1 year after excision of a congenital cataract with implantation of an intraocular lens in children receiving combination of Viferon and Derinat in comparison with control group of patients.
Egorov V.V., Danilova L.P., Emanova L.P., Utkina E.S., Smolyakova G.P.
EFFICIENCY OF COMPLEX SYSTEM OF MEDICO-SOCIAL REHABILITATION OF PATIENTS WITH AN EDEMATOUS EXOPHTHALMOS [№ 12 ' 2012]
Efficiency of complex treatment of an edematous exophthalmos is reached by Methylprednisolonum pulse-therapy method in combination with surgical treatment with carrying out bilateral internal orbital decompression. In overwhelming majority of cases (68.75%) permanent clinical cure was reached in a result of carried out Methylprednisolonum pulse-therapy in combination with prednisolonum. The internal orbital decompression executed in patients with an edematous exophthalmos in a stage of compensation in the presence of a residual asymmetric exophthalmos was highly effective both clinically (exophthalmos reduction of 3,0±0,5мм in 8 patients, improvement of a corneal epithelium condition in 5 patients), and cosmetic (satisfactory esthetic result in 10 patients).
Egorov V.V., Dutchin I.V., Posvalyuk V.D., Smolyakova G.P., Sorokin E.L.
THE ROLE AND MEANING OF PROINFLAMMATORY IMMUNOCYTE IN SUBEPITHELIAL GAUZE CORNEA PATHOGENESIS AT SURGICAL CORRECTION OF MYOPIA WITH METHOD FRK [№ 13 ' 2004]

Egorov V.V., Dutchin I.V., Smolyakova G.P., Sokolov K.V., Posvalyuk V.D.
REFRACTING OUTCOME OF EXCIMERLASER CORRECTION OF MYOPIA IN INTERCOMMUNICATION WITH VISION LIFE QUALITY SELF-APPRAISAL [№ 13 ' 2004]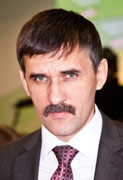 Editor-in-chief
Sergey Aleksandrovich
MIROSHNIKOV