Подача статей





Skoybedo I.E., Efimov S.G., Bolotnikov V.N., Korolikhin F.S., Dokashenko D.A.
ANESTHESIA METHODS AT INTUBATION OF NASOLACRIMAL DUCT IN CHILDREN [№ 12 ' 2015]
Inflammation of the lacrimal sac and nasolacrimal duct (dacryocystitis) is the cause of lacrimal passages disfunction. Constant lacrimation, mucopurulent discharge increase the risk of purulent-septic and inflammatory diseases of the eye and organs surrounding the eye thence intubation of nasolacrimal duct in children with neonatal dacryocystitis should be carried out in the early stages (up to 6 months) and under general inhalation anesthesia. General anesthesia allows avoiding stress reactions in children, eliminates restlessness, avoids trauma and neurological complications of nasolacrimal duct intubation. Ensuring a high level of comfort to the surgeon allows recanalize nasolacrimal duct in complicated and neglected cases without too much emotional stress. High level of general anesthesia security is provided by experience and staff training, the availability of comprehensive monitoring and correct its use, allowing you to carry out the procedure on an outpatient basis with minimal risk of complications.
Skoibedo I.E., Korolikhin F.S., Bolotnikova V.N.
MULTIMODAL ANALGESIA ADVANTAGES AT OPHTHALMOSURGICAL INTERVENTION OF CHILDREN [№ 13 ' 2004]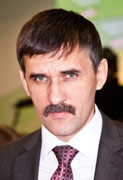 Editor-in-chief
Sergey Aleksandrovich
MIROSHNIKOV