Подача статей





Baltin V.E., Skobelyeva Ye,V.
THE OPTIMIZATION OF THE TAX FLOWS OF HOLDING [№ 8 ' 2011]
The authors proposed the recommendation regarding the optimization of taxation in the holdings of the within the framework acting tax legislation for purposes of an increase in the effectiveness in control of the flow of money.
Skobeleva E.V.
FINANCIAL FLOWS OF HOLDING COMPANY: MANAGEMENT OBJECT [№ 9 ' 2007]
Financial flows as an object of financial management in a holding company are regarded in this article, also their classification and accounting methodic of incoming and outgoing internal and external holding financial flows are suggested and necessity of their optimization with aim of financial management effectiveness increase in holding companies is proved here.
Baltin V.E., Skobeleva E.V.
ESTIMATION OF SYNERGY EFFECT OF HOLDING CREATIONS AND FUNCTIONING [№ 8 ' 2006]
In the article the formalized approaches are offered to estimation of probable sizes of synergy effect at holding creation and holding functioning efficiency for its participants.
Baltin V.E., Skobeleva E.V.
INCREASE OF MANAGEMENT EFFICIENCY OF FINANCE HOLDING [№ 10 ' 2005]
In the article the organizational changes are offered for different kinds of holdings for the purposes of increase of management efficiency by financial streams.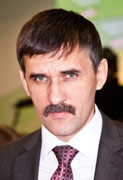 Editor-in-chief
Sergey Aleksandrovich
MIROSHNIKOV