Подача статей





Bulyarsky S.V., Bulyaskaya S.A., Sinitsyn A.O.
MANAGEMENT OF INDUSTRIAL CLUSTERS [№ 9 ' 2012]
The paper deals with improving the quality of management of industrial clusters, the correct solution which not only enhances its competitiveness, but also the competitiveness of the region as a whole. Economic models analysisallows optimizing investment in cluster, as a control.
Bulyarskiy S.V., Sinitsyn A.O.
THE OPTIMIZATION OF THE DISTRIBUTION OF INVESTMENTS IN THE INDUSTRIAL CLUSTERS [№ 8 ' 2011]
The authors investigated the processes of formation and activity of the economic clusters of industrial enterprises. As the tool of analysis a system method of interbranch balance is used, augmented by the mathematical model, based on the thermodynamic analogy of Gibbs's energy in the economy. The author developed the mathematical model of the distribution of the means of the production within the framework of the economic clusters of industrial enterprises. The analytical dependence of the optimum distribution of the resources between participants in the association of industrial enterprises is obtained on the basis of balance method.
Bulyarskaya S.A., Bulyarskiy S.V., Sinitsyn A.O.
FORMING OF VIRTUAL SCIENTIFIC COLLECTIVES IN FORM OF CONSORTIUM [№ 10 ' 2009]
The processes of forming of virtual scientific collectives without registration of a legal person are regarded in this article. The motivations of such collectives' forming are revealed here. The principals the realization of which guarantees their stability are determined. The authors analyze legal aspects of formation of virtual collectives and show that the contract of strategic partnership has definite advantages against the contract of full association. The questions of virtual collective management are regarded and it is shown that for successful its activity it is necessary to form leading center for example in from of scientific-technical Soviet and also coordinating Soviet at activities' trends.
Zheldak V.I., Sidorenkov V.M., Sinitsin M.G., Ladonina N.N.
STUDYING AND APPRAISAL OF PINY AND LARCH PLANTATIONS RECOVERY IN THE CENTRAL-EUROPEAN PART OF SOUTHERN-TAIGA FOREST REGION ON THE EXAMPLE OF KOSTROMA REGION [№ 6 ' 2009]

Yu.I.Sinitsin, V.B.Shashkov
CALCULATING AND TRANSFORMING CHAINS FORMATION BY MEANS OF THE OPERATIONS DIFFERED FROM THE BASIC ONE. [№ 3 ' 2000]
The possibility of the functional transformers formation is considered on the basis of reflection functions device. The use of these functions gives the possibility to get chain structures of nosn-base composition of operational elements at the expense of changing the pole-zero diagram's form.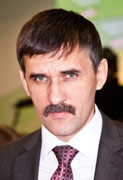 Editor-in-chief
Sergey Aleksandrovich
MIROSHNIKOV