Подача статей





Glushech V.V., Shukurova B.M.
FEATURES OF THE TAXATION OF SMALL BUSINESS SUBJECTS [№ 7 ' 2003]
Becoming and development of small business in Kazakhstan is natural and objective process of realization of economic reforms of formation in the outlook of market economy. Economic conditions of managing have changed for the subjects of small business for the period, past from acceptance of the first tax laws in republic as a result of realization in life of reforms in economy. Therefore the acceptance of the new Tax Code of the country is dictated by the today?s requirements.
Shukurov A.K.
THE MECHANISM OF STATE REGULATION OF AN AGRICULTURE IN REGION AND PROBLEMS OF ITS DEVELOPMENT [№ 7 ' 2003]
The modern market economy is characterized by the increased role of the state in world practice. In conditions of KazAkhstan, as well as in other countries of the CIS, the imperfection of the market or as it is quite often named "failures" of the market dictate the necessity of state regulation of development of a national economy at formation of structures of a market mechanism. Moreover, the economic functions of the state are realized through the mechanism of state regulation. At the same time, the certain set of means of economic and not economic character is used: administrative - legal and economic means for achievement aims put by.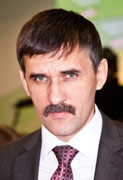 Editor-in-chief
Sergey Aleksandrovich
MIROSHNIKOV