Подача статей





Bogoduhov S.I., Kozik, E.S., Sheinin B.M., Strizhov A.O., Svidenko E.V.
INFLUENCE OF HEAT TREATMENT ON THE PROPERTIES OF CEMENTED CARBIDE CUTTING TOOLS T14К8 [№ 1 ' 2015]
Considered high resistance carbide Cup cut-PAC brand T14К8. There is investigated the influence of heat treatment on the usage of district property сarbide Cup cutters brand T14K8. The dependence between the hardness, toughness, microstructure hard alloy TС and heat treatment.
Kozik E.S., Koshelev S.I., Kushnarenko E.V., Scheinin B.M., Pravdin V.S., Solosin E.V.
THE CORROSION RESISTANCE OF LOW-CARBON STEEL WITH GALVANIZED STEEL [№ 1 ' 2013]
In the article investigated problems of increase the corrosion resistance low-carbon steel with galvanized steel. Found that for steel specimens diameter of 2–3 mm of the electrodes SSSI 13/55, MP-3, RLA-8 galvanically chrome-plated, nickel and cadmium after hydrogen sulfide native NACE test environment for 96 hours, followed by test notes on flexible bend corrosion resistance remained unchanged.
Bogodukhov S.I., Kilov A.S., Kozik E.S., Shein E.A., Sheynin B.M., Khaybullin R.R.
INCREASING THE DURABILITY OF FUSION T5K10 [№ 10 ' 2010]
The authors investigated the influence of structural changes to the properties of hard fusion T5K10 during thermal treatment. They established the possibility of changing the value of durability of hard fusion by the variation of the regimes of thermal treatment.
Bogoduhov S.I., Sheinin B.M.
THERMOWORKING OF POWDER STEELS. [№ 5 ' 2004]
Questions of thermic working of powder steels with the use of speed heat in melting of salts and TVCh are viewed in the article.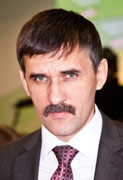 Editor-in-chief
Sergey Aleksandrovich
MIROSHNIKOV