Подача статей





Khvostikov A.S., Kosmynin A.V., Schetinin V.S., Smirnov A.V., Blinkov S.S.
THE CONTROL OF THE SPINDLE ON GAS-STATIC BEARING THE METOD OF VIBRATION ACOUSTIC ISSUE [№ 9 ' 2012]
The technique of the control of position of a spindle on gas-static bearing is stated by a method of vibrating acoustic issue. The description of the experimental stand and the measuring equipment is resulted.
Shchetinin V.I., Yakovleva P.A.
SYNERGETIC SCHEME OF KNOWLEDGE CATALYST AND REFLECTION [№ 1 ' 2008]
Synergetic scheme of scientific knowledge and reflection are compared in frames of synergetic philosophy. Comparative analysis revealed some similarities of knowledge scheme and reflection as mental-dimension processes, promoted origin of clear knowledge from implicit knowledge reflected origin and development scientific knowledge.
Shchetinin V.I., Yakovleva R.A.
SYNERGY PHILOSOPHY ABOUT METHOD [№ 7 ' 2006]
Method bases as a complicated system are analyzed in frame of philosophical synergetic conception. The method is represented as a core of perception which uses positive regenerative connection in essential measure. Modern condition of this subjective sphere is specified here in model. The method role at theory construction is regarded. Synergetic model of the method is presented here too.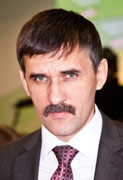 Editor-in-chief
Sergey Aleksandrovich
MIROSHNIKOV