Подача статей





Shaimullin R.K.
CRIMES AGAINST THE INTERESTS OF SERVICE: CONTENT AND STRUCTURAL ANALYSIS [№ 3 ' 2012]
In the article the modern Russian complex of crimes against the interests of service deals. On the basis of the conducted research the content and classification of crimes against the interests of service is given for more effective criminal law and anti-corruption legislation application.
Shaymullin R.K.
INNOVATION APPROACHES IN THE SOLUTION OF THE PROBLEMS OF CORRUPTION IN RF [№ 3 ' 2011]
The author gave the brief analysis of the state of struggle against corruption in RF from the moment of adopting the legislative complex of the anti-corruption measures. He also examined the experience of the application of criminal- legal standards within the framework of the contemporary anti-corruption policy in RF, noted system error in the Criminal Code of RF, which testifies the discord of standards about the official crimes. The determination of crimes against the interests of service for the more effective approach to the opposition to corruption is formulated on basis of the conducted investigation.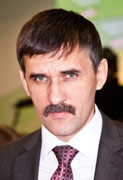 Editor-in-chief
Sergey Aleksandrovich
MIROSHNIKOV