Подача статей





Seredina V.P., Shaykhutdinova A.N., Ovsyannikova S.V.
FEATURES OF BEHAVIOR OF MOBILE FORMS OF HEAVY METALS IN THE SOILS OF THE KUZBASS [№ 10 ' 2015]
In the paper give a description the content and laws of spatial behavior of mobile forms of heavy metals (lead, cadmium, copper, zinc, manganese, nickel, cobalt, chromium) in the soils of the monitored grounds of Kuzbass. The coefficient of the radial differentiation of soils (R), which describes the distribution of mobile forms of heavy metals in the profile. It allows you to set the direction and influence of the type of soil formation, granulometric composition and soil properties on their behavior in a variety of soils investigated automorphic series. On the basis of the content of mobile forms of heavy metals and maximum allowable concentrations calculated the coefficient of the total pollution (Zc). By the dual analysis of the basic properties of the studied soils (content of physical clay, carbonate, organic matter, pH) assessed their buffering capacity. Comparative analysis of the contamination factor and the buffering capacity of the soils studied in the territory of Kuzbass in relation to heavy metals makes it possible to assess their ecological and geochemical condition. Negative factors of soil pollution and high levels of buffering capacity suggests a relatively favorable ecological situation in the territory of Kuzbass with respect to mobile forms of heavy metals.Results of research can be used in the development of soil-ecological monitoring of the territory of Kuzbass, to solve different problems of land use, protection and soils reclamation.
Kuksanov V.F., Shaykhutdinova A.A.
MORPHOLOGICAL ANALYSIS OF PLANTS GROWING IN URBANIZED AREAS [№ 5 ' 2009]
The article addresses the issue of pollution of the areas adjacent to solid-fuel thermal power plants. To this end morphological analysis of a dominant plant species was carried out. The length of the root, stem and area of the leaf in the Knotweed was selected as an indicator for morphological depression of plants.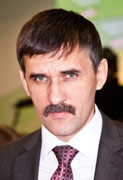 Editor-in-chief
Sergey Aleksandrovich
MIROSHNIKOV