Подача статей





Neroev V.V., Tankovskiy V.E., Grigoriev A.V., Serebryakova O.E., Urakova N.A.
THE CHANGES OF PLATELET AGGREGATION IN PATIENTS WITH RETINAL VEIN OCCLUSION DUE TO ANGIITIS AFTER THE INTRAVITREAL INJECTION OF BEVACIZUMAB [№ 4 ' 2013]
The study reports an evaluation of changes of platelet aggregation in patients with retinal vein occlusion due to angiitis after the intravitreal injection of Bevacizumab. 29 patients (29 eyes) were observed: 14 patients were given the complex treatment for retinal vein occlusion due to angiitis, 15 patients were given the intravitreal injection of Bevacizumab besides the complex treatment. The platelet aggregation activity was found to be normalized after the intravitreal injection of Bevacizumab. The data needs to be further investigated.
Serebryakova N.A.
PROBLEMS OF REFORMING OF EXISTING SYSTEM OF MILITARY PERSONNEL SOCIAL DEFENSE [№ 1 ' 2008]
Social defense of military personnel is regarded as a component of system of social defense of the Russian Federation population, its typical peculiarities in this system are shown, also characteristic of general trends of reforming of military personnel material guarantee and the appraisal of effectiveness of course realized by Government of the Russian Federation in the sphere of material and property guarantee of military personnel are given in this article.
Serebryakova N.N.
INFLUENCE OF XENOBIOTICS ON PHYSIOLOGY AND BIOCHEMISTRY OF LEAFY MOSSES [№ 12 ' 2007]
The character of methylphosphoric acid influence on biochemical and physiological processes of mosses is studied in this article. The possibility of mosses' usage in monitoring of environment condition in the region of an object construction of chemical weapons destruction is regarded here.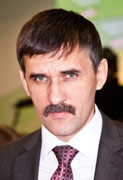 Editor-in-chief
Sergey Aleksandrovich
MIROSHNIKOV