Подача статей





Sazykin V.L.
NEW METHOD OF INTEGRAL APPRAISAL [№ 12 ' 2004]
New method of integral appraisal of compatible objects is described in this article. The importance of appraisal function generally and integral appraisal in particular is underlined here. Suggested method is differed from others with exactness and at the same time with simplicity and clearness. This method can be used not only in science researches but in practice work in different spheres of production.
Sazykin V.L.
THE ANALYSIS OF ANTITUBERCULOUS WORK IN ORENBURG REGION WITH A HELP OF INTEGRAL APPRAISAL METHOD AND COMPUTER PROGRAM RANG [№ 10 ' 2004]
The original method of complex object appraisal and the analysis of antituberculous work in Orenburg region from different sides which was made with a help of this method, was described in this article. The selection of logical groups' indexes structure for appraisal realization was considered in detail. It was passed the determination of two important sides of antituberculous work, such as epidemiological prosperity of a territory and level of antituberculous work organization.
Chepasov V.I., Sazykin V.L.
MATHEMATICAL JUSTIFICATION OF THE COMPUTER PROGRAMME "RANG" BY SAZYKIN [№ 6 ' 2004]
The mathematical analysis of lawful usage of the algorithm proposed by Sazykin V.L. for the purposes of complex comparative characteristic of different subjects was carried out. The algorithm was implemented in Sazykin's computer programme "Rang". The factor analysis and the step progression method showed the accuracy of the method proposed by Sazykin. It is also sufficiently reliable and relatively simple. These features make the algorithm instinctively understandable for practical personnel.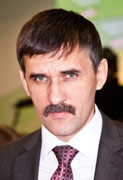 Editor-in-chief
Sergey Aleksandrovich
MIROSHNIKOV