Подача статей





Mironycheva-Tokareva N.P., Kosykh N.P., Vishnyakova E.K., Koronatova N.G., Stepanova V.A., Saib E.A., Pokrovskij O.S.
VEGETATION AND PLANT MATTER OF RAISED BOGS IN FOREST-STEPPE ZONE IN THE SOUTH OF WESTERN SIBERIA [№ 3 ' 2017]
The forest-steppe zone within the Novosibirsk region of Western Siberia was surveyed. The following typical mire ecosystems in close contact with each other are functioning: oligotrophic pine-dwarf shrub-Sphagnum raised bogs (ryams), reed floodplains and mesotrophic fens around secondary lakes in ryams. Calculation of the productive parameters of the pine stand was calculated using young model trees. Photosynthesizing mass of pine trees was 120 g/m2, above-ground lignified organs — 344 g/m2 with trunks contributed of 66 %, and the trunk stock under the moss cover was 64 g/m2. The stock of dead branches was 19 g/m2. The total stock of above-ground mass of trees was estimated as 464 g/m2, with contribution of pine trees in the total aboveground phytomass of 36 % in ryams. Pine primary production was calculated as the sum of the current year needles and shoots and reached 47 g/m2 a year, ie 14 % of the total aboveground production in the ryam. In all types of mire ecosystems the phytomass, mortmass and net primary production were evaluated. Stocks of aboveground biomass varied from 300 to 2,200 g/m2, below-ground phytomass — from 1,200 to 4,200 g/m2. Net primary production varied from 500 to 3,000 g/m2 a year, minimal production is produced in oligotrophic ryams, and maximal production is produced in mesotrophic and eutrophic mires. Phytomass stocks and production were estimated for dwarf-shrub, grass and moss layers. Value of standing crop is similar in the studied ecosystems and estimated as 4,133 g/m2 in fens, 4,032 g/m2 in floodplains, and 3,681 g/m2 in the ryam.
Saibulova A.G.
THE GENRE OF THE ESSAY IN THE ORENBURG EDITIONS OF THE END OF XIX CENTURY [№ 11 ' 2012]
This paper presents an analysis of the Orenburg essays literature of the late XIX century. On the example of the newspaper "Orenburgskiy listok" considered genre-typological diversity essay. One important aspect of the paper is an ethnographic study of the essay, widespread in the Orenburg literature and journalism at the end of XIX century.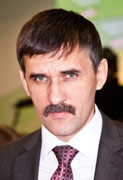 Editor-in-chief
Sergey Aleksandrovich
MIROSHNIKOV