Подача статей





Tyapukhin A.P., Satarova M.N.
FORMING AND FUNCTIONING OF MARKETING INFORMATIONAL SYSTEMS [№ 8 ' 2005]
The author's treatment of the concept "marketing informational system" is suggested in this article. The content of general stages of its forming is proved here, and also theoretical theses, connected with functioning of marketing informational systems in conditions of market relations are worked out here and the indexes' aggregate, characterized its activity, is offered in this article too.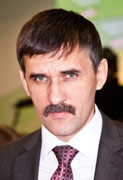 Editor-in-chief
Sergey Aleksandrovich
MIROSHNIKOV