Подача статей





Sapugoltseva M.A., Sapugoltsev V.Y.
DESIGN PROJECT ACTIVITIES PROFESSIONAL SOCIALIZATION OF UNIVERSITY STUDENTS [№ 5 ' 2014]
The article examines the educational development of the individual in terms of project activities, design engineering as a promising variant of educational technology, especially the use of educational project design activities, socializing opportunities design design, professional socialization of the individual in the process of design-activities. Design and engineering activities as an effective means of transferring professional design skills in the sphere of socialization, enhancing professional socialization of future employment specialist and professional socialization.
Sapugoltseva M.A.
ANTHROPOLOGICAL ASPECTS OF SOCIALIZATION OF PERSONALITY IN PROJECT ACTIVITY [№ 7 ' 2012]
Some anthropological interpretations of socialization of personality as a subject of project activity are examined in the article; socializing functional of project designing work in an aspect of professional formation of key qualities of the personality of future specialist are defining.
Sapugoltseva M.A.
THE DESIGN PROJECT AS SOCIALIZATION MEANS PERSONS OF THE STUDENT OF UNIVERSITY [№ 2 ' 2012]
In article pedagogical possibilities of design designing as means of socialization of the person of the student of university are presented. In this aspect the interconnected processes of is professional-labor socialization, carrying over of professional design abilities to socialization sphere, and also influences of design prognostic activity on advancing socialization are allocated. Results of pedagogical experiment are analyzed according to efficiency of design designing on the basis of criterion of the reached level of socialization.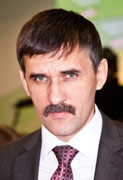 Editor-in-chief
Sergey Aleksandrovich
MIROSHNIKOV