Подача статей





Rudakov V.I., Karyagin A.P.
METHOD OF AUTHOMATED CALCULATION OF STRUCTURAL CHARACTERISTIC ON DATA OF X-RAY STRUCTURE ANALYSIS [№ 10 ' 2005]
In the article the method is submitted of program management by goniometer of x-ray diffractometer and the automated processing of experimental data: calculation of the centre of gravity deffractional maximum, Furye`s factors, calculation of micropressure size and areas of coherent dispersion. The function scheme is shown of computer connection with diffractometer.
Ilyichev L.L., Rudakov V.I.
METHODS OF PHYSICOMECHANICAL TESTS OF TOOL STEEL WITH IONIC–PLASMA COVERINGS [№ 9 ' 2005]

Skalnyj A.V., Rudakov J.A., Notova S.V.
BIOELEMENT MEDICINE: QUESTIONS OF THE TERMINOLOGY [№ 7 ' 2003]
The conceptual device and terminological base of the scientific - applied direction are considered studying the contents and the interaction of chemical elements an organism. The system of terms for a designation of various characteristics of an element exchange in conditions of norm and a pathology is offered.
Grebenjuk V.F., Rudakov V.I.
IONIC-PLASMA TECHNOLOGY OF DEFORMING TOOL HARDENING [№ 5 ' 2003]
The purpose of the carried out work is the increase of operational properties of stamps and the compression moulds made from alloyed treated tool steels and intended for cold and liquid punching, moulding under pressure by a method of drawing on forming surfaces of the tool the ionic - plasma coverings of complex structure on the basis of nitrides and carbonitrides of refractory metals.
Alidzhanov E.K., Grebenyuk V.F., Rudakov V.I.
HIGH RESOLUTION SCANNING ELECTRONIC MICROSCOPY OF PLASMIC SURFACES [№ 1 ' 2003]
The article gives information on the structure and substructure of vacuum ion-plasma surfaces on the base of raster electronic microscopy with tunnel microscope scanning; micro-roentgen spectrum analysis helped to define the elements composing the surfaces.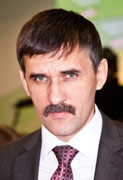 Editor-in-chief
Sergey Aleksandrovich
MIROSHNIKOV