Подача статей





Reshetova M.V.
COTTAGE COMPLEX AS A SYNTHESIS OF URBAN AND ESTATE CULTURE RUSSIA [№ 5 ' 2014]
The article describes the features of the material culture of Russia, can be traced especially life estates, covering a summation circuit experience of managing a traditional Russian and western civilized development. In this synthesis has developed a unique flavor of economic, intellectual, moral, spiritual, moral and aesthetic activities of the nobility.
Reshetova M.V.
COLLAGE AND PERFORMANCE AS STRATEGY OF WASHING OUT OF BORDERS BETWEEN TRADITIONAL PRACTICIANS OF ART [№ 9 ' 2012]
In article interosculation and coexistence of different art forms into second half XX centuries reveals. Principles of collage, formulating essence of new forms of art are defined. In the modern version of a postmodernism the collage is interpreted not as speculative connection in various under the status and value of elements, and as a symbol of a modern epoch.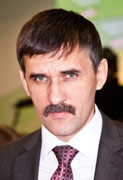 Editor-in-chief
Sergey Aleksandrovich
MIROSHNIKOV