Подача статей





Redyukov A.V.
USE OF BALANCED SYSTEM OF INDICATORS IN DETERMINATION OF MUNICIPAL HEALTH SERVICE EFFICIENCY [№ 12 ' 2006]
The article considers the possibility of determination of municipal health service efficiency using the balanced system of indicators.
Redjukov A.V., Dolgov A.M.
CCD PATIENTS CEREBROVASCULAR DISTURBANCES CORRECTION [№ 1 ' 2003]
Subjective neurological manifestations, cerebral and central haemodynamics indices with 144 CCD patients before and after the instenon use were studied studied and compared. Subjective neurological manifestations and cerebral haemodynamics indices improved positively, with the invariable indices of central one. These allow to use instenon for cerebrovascular disturbances correction with this category of patients.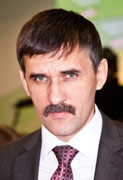 Editor-in-chief
Sergey Aleksandrovich
MIROSHNIKOV