Подача статей





Ermakova O.V., Iskakov I.A., Chernykh V.V., Trunov A. N., Razhev A.M., Churkin D.S., Kargapoltsev E.S.
INVESTIGATION OF THE EFFECTS OF THE EXCIMER LASER WITH A WAVELENGTH OF 308 NM ON SCLERAL TISSUE [№ 4 ' 2013]
The paper presents the results of experiments series using an excimer laser at 308 nm (KrF) to the scleral tissue. The main parameters of influence: the threshold energy density ablation, ablation rate. The comparative characteristics of the excimer laser with a wavelength of 248, 308, 353 nm were described. The optimal UF wavelength for effects on the sclera was determined.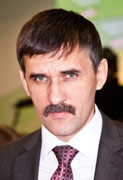 Editor-in-chief
Sergey Aleksandrovich
MIROSHNIKOV