Подача статей





Raimova A.T., Kutuzov V.I., Vakulyuk V.M., Shevelenko V.D.
METHOD OF PERIODIZATED SIGNAL RECREATION AT ACCEPTED DISCRETE READINGS [№ 1 ' 2006]
Method of periodizated signal recreation at accepted discrete readings based on decomposition of periodizated signal in row of mutually-orthogonal functions, making "nucleus Dirikhle", which is impact function of ideal discrete filter, is suggested in this article. It is shown that high level of metrological indexes of method is determined with obtainable relative instability of carrier frequency oscillations using for forming of uniform-amplitude polynomials in the form of amplitude-modulated oscillations. The method allows fulfilling signal recreation in the rate of readings receipt.
A.T. Raimova
INFLUENCE ACCOUNT OF LATENT PERIODICITIES IN MANAGEMENT PROCESS OF REGIONAL PRODUCTION COMPLEX [№ 7 ' 2003]
An opportunity of influence account on production activity of latent periodicities, fairly existing in extensive time intervals is regarded in this article. On the example of account of time dependence of using and production of technological resort parameter at using for management of the method of "etalon" models it is shown the opportunity of identification of enterprise technological processes - user and enterprise - producer, what can serve the base for concrete investments.
Abdrashitov R.T., Raimova A.T.
INFORMATION AND LAW ASPECTS OF REGION MANAGEMENT (PROBLEM STATEMENT) [№ 8 ' 2002]
The problems of regional society development management on the law basis are analysed; information and law aspects draw up of region management, as an opened system strategy are given; regional management law methods of informatization approaches are considered in the article.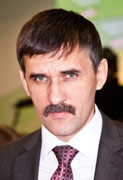 Editor-in-chief
Sergey Aleksandrovich
MIROSHNIKOV