Подача статей





Fedotov A.S.Raguzina L.M.
DETERMINATION OF BROMINE IONS AND IODINE IN STRATAL AND BORACIC WATER [№ 6 ' 2006]
The opportunity of changes of sodium thiosulfate solution on mean "Belizna" of household chemical goods at standard method is researched with aim to unify the analysis of stratal water on content of bromide- and iodide-ions. According to this long (5-7 days) and toxic process of mixing of working solution of sodium thiosulfate is excluded. This method can be used directly on oil wells.
Nikiforova T.A., Raguzina L.M., Vladimirov N.P.
POSSIBLE WAYS OF RATIONAL USE OF MILLET FACTORY`S WASTE PRODUCTS [№ 5 ' 2003]
For a scientific substantiation of rational use of waste products of millet factory the basic parameters of a chemical compound of millet flour were investigated. The carried out researches show the expediency of use of millet flour in microbiological, food and feed mill industry.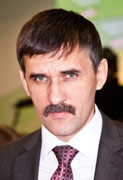 Editor-in-chief
Sergey Aleksandrovich
MIROSHNIKOV