Подача статей





Radysh I.V., Koroteeva T.V.
THE DYNAMICS OF THE INDICES OF CARDIORESPIRATORY SYSTEM IN WOMEN IN DIFFERENT SEASONS OF YEAR [№ 12 ' 2010]
The authors studied seasonal changes of state of cardiorespiratory system in the women of different ethnic groups. It is established that in all those investigated the parameters of cardiorespiratory system are subjected to the influence of seasonal rhythms, the majority of maximums are fallen to winter and summer period of year. It is revealed, that the longer delay time of respiration (test to rod) is characteristic for the Russian women independent of of the season of year, which indicate their higher stability to hypoxia and hypercapnia. In this case the delay time of respiration is reliably higher during the lutein phase of menstrual cycle, than follikuline.
Polataiko Y.A., Radysh I.V.
SPORTSMEN HEART RATE VARIABILITY WITHIN A YEAR PERIOD [№ 2 ' 2005]
The author studies sportsmen heart rate variability within a year period. Optimal functional exertion of the regulatory organism system was proved to be characteristic for athletes, moderate for swimmers, strong within a year for a control group. Besides, winter period was proved to be the time of the stronger regulatory organism system exertion.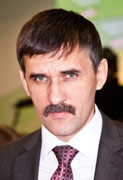 Editor-in-chief
Sergey Aleksandrovich
MIROSHNIKOV