Подача статей





Pushkaryeva O.V.
VARIABILITY OF MORPHOLOGICAL EVIDENCE EPIPACTIS HELLEBORINE (L.) CRANTZ. IN THE SOUTH URALS [№ 12 ' 2011]
The paper presents materials on the study of intra– and interpopulation variability of morphological evidence Epipactis helleborine (L.) Crantz.
Pushkareva M.A.
ON NATURE OF CATEGORIES AND POSSIBILITY OF CATEGORIC SYNTHESIS BY MEANS OF DEVELOPING AN IDEA OF LIBERTY [№ 7 ' 2010]
The article studies possibility of categoric synthesis by the example of oeuvre of representatives of German classical philosophy. Actual relation of philosophic categories system and methods of its presentation makes a relation between form and substance. Taking into consideration activity of the form and its inverse effect on its own substance any attempt to describe the system of categories that is formed in the course of social and historic practice cannot be performed without leaving a trace on this system..
Mikhailova I.V., Smolyagin A.I., Ermolina E.V., Pushkareva L.A.
INFLUENCE OF POTASSIUM DICHROMATE, BENZOL AND MIXTURE OF THESE MATTERS ON IMMUNE RESPONSE OF MICE [№ 6 ' 2009]

N.V. Raysanova, Т.А. Кrivchenko, G.М. Fathullina, N.А. Bezzubenkova, Т.V. Pushkareva, L.N. Latesheva
POST-UNIVERSITY SOCIAL AND PROFESSIONAL ADAPTATION OF SPECIALISTS. TUTORIAL. SCIENTIFIC PREMISES [№ 2 ' 2002]
The article represents the result of "immersion" into multiplex logic of scientific research of educational system and nature of social norms. The main idea is founded cogently. The research is receiving its adequate interpretation only within the framework of an interdisciplinary approach, combining philosophical, pedagogical, cultural, system-genetic and other aspects of the analysis. The work is intended for all interested in complex problems of education development, to professors, scientists, postgraduate and undergraduate students.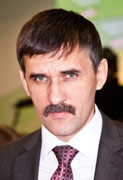 Editor-in-chief
Sergey Aleksandrovich
MIROSHNIKOV