Подача статей





Kozik E.S., Koshelev S.I., Kushnarenko E.V., Scheinin B.M., Pravdin V.S., Solosin E.V.
THE CORROSION RESISTANCE OF LOW-CARBON STEEL WITH GALVANIZED STEEL [№ 1 ' 2013]
In the article investigated problems of increase the corrosion resistance low-carbon steel with galvanized steel. Found that for steel specimens diameter of 2–3 mm of the electrodes SSSI 13/55, MP-3, RLA-8 galvanically chrome-plated, nickel and cadmium after hydrogen sulfide native NACE test environment for 96 hours, followed by test notes on flexible bend corrosion resistance remained unchanged.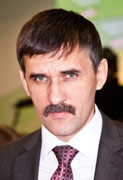 Editor-in-chief
Sergey Aleksandrovich
MIROSHNIKOV