Подача статей





Kashin of B.B., Ponomarenko H.B.
IDEA OF HUMAN PERSON IMMORTALITY [№ 7 ' 2014]
We investigated idea of immortality in unit of the human person, formulated by different thinkers and scientists. It is reasoned proves the matter the psychologist V. M. Bekhterev. After classic philosophers he strictly reflects on a role of the personality as one of unique links of an infinite series of lives, considers it from various positions: in the light of scientific and human outlook, as the existential moralized life and as a universaliya.
Ponomarenko N.V.
THE IDEA OF IMMORTALITY: ONTOLOGICAL ASPECTS [№ 7 ' 2013]
The article deals with an idea of immortality which forms the nucleus of myths and religions as a belief in never-ending of the human being. The author distinguishes several types of philosophical discourses which present interpretations of immortality and the types of spiritual practices stipulated by them.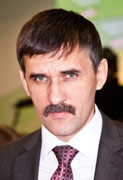 Editor-in-chief
Sergey Aleksandrovich
MIROSHNIKOV