Подача статей





Komakh Yu.A., Borzenok S.A., Kachegura L.V., Petrichuk S.V., Samokhina I.V., Volodin P.L., Pavlenko V.V., Polyanskaya E.G.
THE CLINICAL-IMMUNOLOGY STUDY OF INFLAMMATIVE-PROLIFERATIVE RESPONSES IN CHILDREN WITH CONGENITAL CATARACTS IN THE EARLY POSTOPERATIVE PERIOD (THE INTRODUCTORY RESULTS) [№ 4 ' 2013]
The results of the study of structure of early postoperative complications after congenital cataract aspiration with IOL implantation in children are presented in the article. At the moment of operation minimal age of the children was 2 years and maximum age was 14 years. The average age was 7,28±3,59 years. For 16 children (18 eyes) the comparison was made between the early postoperative period and the results of blood immunological tests. The risks factors of the early postoperative complications were researched.
Polyanskaya E.B.
THE CONCEPT OF SENSE DATA IN PHILOSOPHY OF J.E. MOORE [№ 6 ' 2011]
The problem field of epistemological beliefs of J.E. Moore is considered in this article. The notion of sense data and the possibility of their attainment are researched here. The model of understanding of consciousness in the philosophy of J.E. Moore is suggested. Based on first-hand comparative analysis of the epistemological system of J.E. Moore and the theory of intentional systems D. Dennett were made in this work.
Polyanskaya T.A., Vedernikova O.P.
CHARACTERISTICS OF COENOPOPULATIONS PYROLA ROTUNDIFOLIA L. IN THE REPUBLIC OF MARI EL [№ 5 ' 2010]
The analysis of 14 cenopopulations (CP) Pyrola rotundifolia L. in different ecological and phytocoenotic conditions in the Republic of Mari El has shown that for most CPs the ecological potencies were implemented from 3 to 61%. For most CPs of the European pyrole (Pyrola rotundifolia) we found characteristic ontogenetic spectra with peaks at the groups of individuals with pre-generative period, minor variations in demographic parameters associated with intense vegetative reproduction. The highest productivity of total phytomass for P. rotundifolia found in Norway spruce green forest (172 g/m2), the lowest in the birch reed grass-forb forest- 58.52 g/m2.
Salnikova N.A., Salnikov A.L., Tyugay Z., Polyanskaya L.M., Egorov М.А.
THE ESTIMATION OF CARBON RESERVES IN THE HYDROMORFIC SOILS OF THE VOLGA RIVER DELTA [№ 12 ' 2008]
The study on the assessment of the carbon content in the hydromorphic soils of the River Volga delta have revealed percentage of the organic carbon up to 96% and up to 8% of the non-organic carbon. The role of microorganisms in the biosphere functions of soils. The percentage of the microbial biomass carbon in the carbon reserves out of the total soil organics ranged from 10.1 to 31.2%.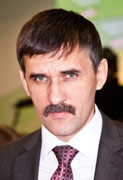 Editor-in-chief
Sergey Aleksandrovich
MIROSHNIKOV