Подача статей





Podnebesnov S.A.
EXPERT SYSTEMS FOR THE TASKS OF DESIGN MANAGEMENT [№ 1 ' 2013]
In this article we have considered issues on methodology of managing engineering design on the basis of the morphological method. Estimated advantages and basic tasks and stages of morphological examination have been shown.
Podnebesnov S.A.
DESIGN AS ACTIVITY [№ 9 ' 2012]
In the article the design is treated as a special type of art and imaginative activities to transform the object-spatial environment, in accordance with the measure of the measure of man and goods. Presents the basic components of the design activity.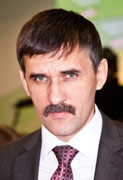 Editor-in-chief
Sergey Aleksandrovich
MIROSHNIKOV